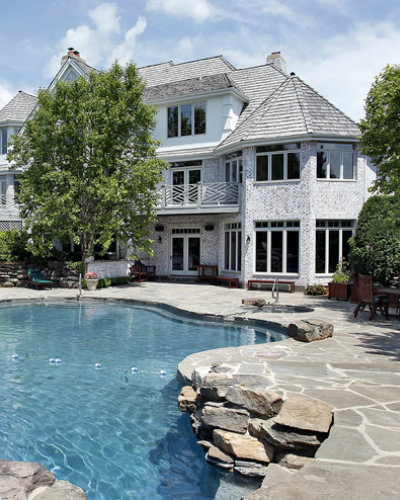 UGH THE NEIGHBORS!
See, I knew the title would get you to click on the link....I did want to end on a major issue when selling your home that you probably haven't thought of and worse yet, have no control over. IT'S YOUR NEIGHBORS!
OMG where to start. Ok, picture cousin Eddie from Christmas Vacation yelling "Shi&@ERS FULL" while a realtor pulls up to your home. Yep, it's happened. Picture your neighbors peaking out of their windows when your potential buyers get out of the car, watching them like they are criminals in a version of Law and Order. Yep it's happened. Picture your neighbor out front watering his grass in his boots, wife beater tank, socks and sandals…..Yep it's happened. (I'm still having a hard time erasing that one from my mind). I tell you some of these because for me, they are funny, but your neighbors can literally BREAK YOU OR MAKE YOU, as they say.
All of the instances above have happened and my buyers have eliminated the house in their minds even before they get in to see your home. A month ago I showed a property, where my clients and I were out on the deck and the neighbor just walks into the yard and starts asking us questions. "Who are you?" "Where do you work?", "Oh I'm here to borrow a shovel from the shed. Mr. Seller always lets me borrow stuff from the shed, I have my own key"…..WHAATT? UGH – Go away weird neighbor! Deal killed. My buyer didn't even go upstairs in that house. All this because Ms. Nosy Neighbor ruined your potential sale.
Do you have a neighbor who has noisy dogs? This is BAD. I mean, if this is the case and you have some type of relationship with your neighbor you may want to ask them if possible to put the pets inside when a showing is happening. A barking dog next door, is a huge price reduction to YOU, Mr. Seller
Do you have a neighbor who has stuff everywhere outside their home? This is BAD. I have seen, mattresses, refrigerators, tires, washing machines, you name it - sitting on front lawns and porches for YEARS. This is a price reduction for YOU Mr. Seller.
Do you have a neighbor who parks their car in the front yard? This is BAD. (NO EXPLANATION NEEDED FOR THIS ONE) This is a price reduction for YOU Mr. Seller.
Do you have that weird, creepy guy (think Norman Bates) who lives next door….This is Really BAD. This is a price reduction for YOU Mr. Seller.
Unfortunately many of these problems from your neighbors cannot be fixed. If you have one of the scenarios above, (hopefully not creepy guy) you will be able to have some type of conversation with the neighbor, if it comes up as negative feedback in the showings. Usually I will talk to the neighbor myself if the seller feels uncomfortable doing it. Most of the time, we can get a solution for both of us. Sometimes, they just glare and slam the door in my face. Some have even stolen my signs.
Well, sadly this is our last day together. While I still have so many things to tell you, we have to break up for awhile. I know that if you have followed this blog for the past couple of weeks you have learned something. And if you haven't, I hope you have enjoyed my sarcastic humor and more importantly, I hope you remember my name, Melissa Brumbaugh, REMAX ALL POINTS REALTORS, before you call any other agent when buying or selling.
GO TO MY WEBSITE FOR ALL YOUR REAL ESTATE INFORMATION
MORE ACCURATE THAN ZILLOW, TRULIA, REALTOR.COM
ONE CLICK BUTTON TO SEARCH FOR ANY AREA IN ROANOKE
WWW.ROANOKEMOVES.COM
REAL TRUTH REAL ESTATE
540 815 4880 MBCB1@COX.NET